PROFESSIONAL EMPLOYEE ORGANIZATIONS
In a world of increasingly complex employment law, a Professional Employer Organization (PEO) provides vital expertise in human resource management and assumes some risks and responsibilities on behalf of its client companies.
You, the business owner, retain workplace management and supervisory control of your workers. You still decide who's hired and fired. You still decide who merits a pay raise. The PEO becomes the "employer of record" and "back office support company" and handles some aspects of payroll, safety, risk management, and assist with Human Resources (HR) administration. They can help manage as much or as little as you desire and ususlly have experts on staff that covers everything that affects the life cycle of an employee. From background checks to salary surveys to hand books to compliance to risk management to terminating an employee. Everything from "Soup to Nuts". The choice is yours.
They also offer or have access to benefit solutions and a host of other services and options at reduced cost that make them a great option for companies looking to gain access to some of the same offerings that Fortune 500 companies have access to. Not only do they offer more, they usually handle all the administration of these items.
What does this mean for you the business owner? More support, more services, more items to help you recruit or retain your talent AND more time to focus on what you do best… run your business!
Simply put: when your employees are good, they belong to you! When something bad happens, like workers compensation claims or state unemployment claims, the PEO steps in to help! Isn't it good to know you have an expert in your corner when you need it the most!
You focus on what you do best. Your PEO handles most of the headaches.
Did we mention that under the Co-employment solution, that workers compensation coverage is pay-as-you-go, with NO down payment, NO year end audit and NO state fees!
CO-EMPLOYMENT MODEL (PEO)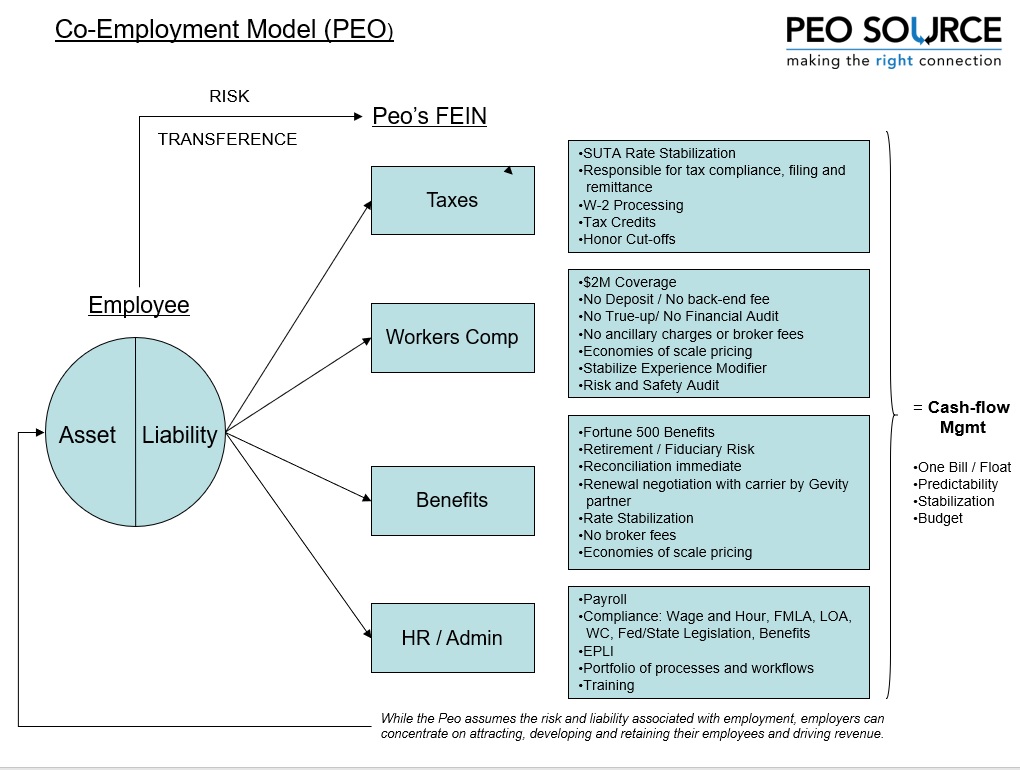 We're all about making the right connection, and we believe you deserve a custom solution to all the payroll, workers comp, liability and compliance issues you face.
At PEO Source, we work with you to assess your unique situation and find a vendor whose strengths fit your needs. To us, you're more than a client.
We believe in sharing ideas via good, old-fashioned conversation and use that to determine if we're the right fit for your needs.